Know-How-Transfer
Once a year, the Foundation organises a symposium focusing on topical issues relating to the cities. Future issues, approaches to solving current problems, and the result of the surveys conducted by the Foundation are discussed by representatives from the worlds of culture, politics, business and society. These fruitful discussions are made available to a wide specialist readership through the "Lebendige Stadt" journal.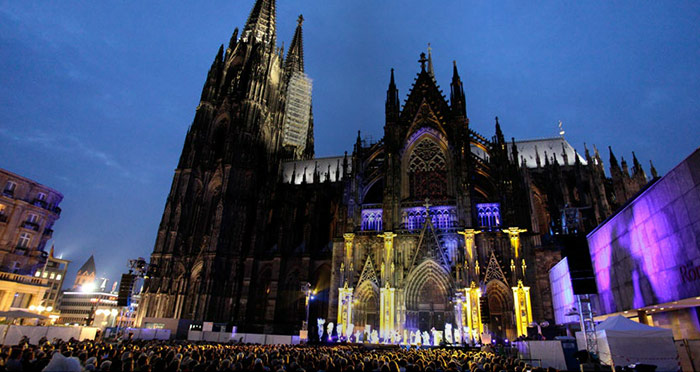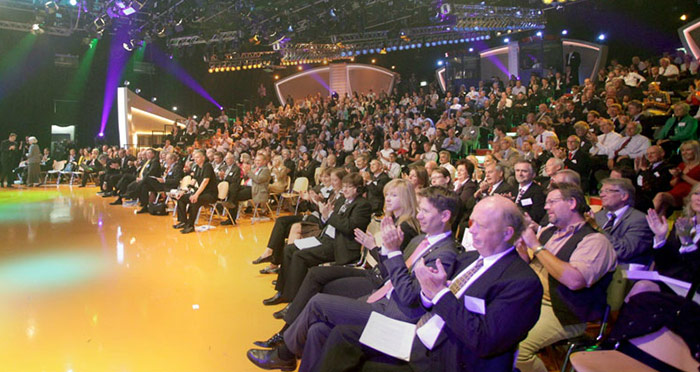 COLORFUL CITY
children - media - cultural diversity
Congress 2009
In the nonprofit "Lebendige Stadt" Foundation, state minister presidents, government ministers, lord mayors, CEOs, scientists and leading cultural figures work together to maintain and promote the vibrancy of European cities. As part of this endeavor, the Foundation supports "best practice" models, presents an annual Foundation Award and organizes forums for the exchange of ideas and experience between the involved parties. The well-known projects of the Foundation include the illumination of the Rhine bank in Cologne, the revitalization of Hamburg's "Jungfernstieg" boulevard and the redevelopment of the church courtyard of the Nikolaikirche in Leipzig, where the peaceful revolution of the former GDR began.
The conference will be staged in cooperation with the German Association of Towns and Municipalities.
MITTWOCH, 9. SEPTEMBER
PROGRAM ON THE EVE OF THE CONFERENCE
06:00 pm
Presentation of the Foundation Award
"Paths In The City: Child-friendly Mobility Concepts"

PROF. DR. ENGELBERT LÜTKE DALDRUP
State Secretary in the Federal Ministry of Transport, Building and Urban Development
ALEXANDER MÖLLER
CEO of Deutsche Bahn Stadtverkehr
08:00 pm
The Cologne Cathedral Play

MICHAEL BATZ
Director: Robin Brosch Lighting: Created by Michael Batz with the support of Philips Lighting GmbH Production: "Lebendige Stadt" Foundation With the support of the City of Cologne, the Cathedral Chapter and the Master Builder of the High Cathedral. The series of outstanding and unusual performances during the Foundation conference continues with a play that not only takes place in front of Cologne Cathedral but also incorporates the impressive building in the plot. The richness of the external facade of the cathedral with its many shapes and figures is the starting point for a story about the city and time, action and decision, values and love. In a turbulent but thoughtful comedy, gargoyles and figures above the southern entrance are "brought down to earth". They can avoid the fate of being turned back into stone on one condition: that, within a short space of time, they find a person who loves them. In an exciting light setting, they climb down onto the stage and interact with a world they normally only see from their perch up high and in which they have never learned to move about in. Then the race against time begins. "The Cologne Cathedral Play" was written specifically to mark the Foundation conference. This is the first time the cathedral has been made available for a project of this kind.
DONNERSTAG 10. SEPTEMBER 2009
CHILDREN

DR. ANDREAS MATTNER
Chairman of the Executive Board, "Lebendige Stadt" Foundation

LUTZ LIENENKÄMPER
Minister of Construction and Transport, North Rhine-Westphalia

ALEXANDER OTTO
Chairman of the Board of Trustees, "Lebendige Stadt" Foundation

HILDEGARD MÜLLER
former Minister of State of the Federal Chancellor, Chairwoman of the Central Management Board of the German Energy and Water Association (BDEW)
10.10 am
"Child-Friendly City – What Can Cities Learn?"

DR. WOLFGANG SCHUSTER
Lord Mayor of Stuttgart, member of the Foundation Board "Lebendige Stadt"
10.30 am
Coffee break and networking
11.00 am
"The Fun of Learning: Classroom of the Future"

ANDREAS WENTE
CEO Philips Deutschland GmbH, Director of the Lighting DACH division

MARGIT VOLLMERT
Director, Caparol ColorDesignStudio

ANDREAS WIEDEMANN
Principal, "In der Alten Forst" school
11.30 am
"The Child-Friendly Railway Station"

DR. ANDRÉ ZEUG
CEO of DB Station & Service AG
11.50 am
MONTY PYTHON'S SPAMALOT - Always Look on the Bright Side of Life
12.00 am
PANEL DISCUSSION: "Children in the City"

DR. DANIEL ARNOLD
CEO of Deutsche Reihenhaus

SEBASTIAN BOCK
pupil, winner of "Youth Debates", NRW

DRS. H.M.F. BRULS
Mayor of Venlo, Netherlands

DR. FRANK HANSER
Managing Director, DSK Deutsche Stadt- und Grundstücksentwicklungsgesellschaft

BURKHARD JUNG
Lord Mayor of Leipzig, member of the Foundation Board "Lebendige Stadt"

NINA-CARLOIN KRUMNAU
pupil, runner-up in "Youth Debates", NRW

HERBERT MAI
Board member of Fraport, Executive Director Labor Relations, Ambassador of the corporate "Success Factor Family" program

DR. WOLFGANG SCHUSTER
Lord Mayor of Stuttgart, member of the Foundation Board "Lebendige Stadt"
DONNERSTAG 10. SEPTEMBER 2009
MEDIA
02.10 pm
Topic moderation
02.20 pm
KICK-OFF SPEECH: Networked Cities – Between E-Government and Digital Fragmentation"

PROF. DR. DR. KARLHEINZ BRANDENBURG
Director of the Fraunhofer Institute for Digital Media Technology
02.40 pm
"Large-Format Advertising in the City – Trends and Options"

DR. FRANZISKA LEHMANN
Proloco

DR. ELISABETH MERK
Urban Planning Officer, Munich
03.00 pm
"Digital Signage - ow Does It Change the Cityscape?"

MORTEN CARLSSON
CEO of PROCON MultiMedia
03.20 pm
Coffee break and networking
03.50 pm
PANEL DISCUSSION: "Media in the City – Mission, Power, Responsibility"

DR. ROLAND GERSCHERMANN
Managing Director, FAZ newspaper, member of the Foundation Board "Lebendige Stadt

DR. EVA LOHSE
Lord Mayor of Ludwigshafen

KONSTANTIN NEVEN DUMONT
member of the Management Board of the M. DuMont Schauberg Group

WOLFGANG SCHMITZ
Director of WDR Radio

MAIK KLOKOW
CEO and Producer of the Klokow Group

DANIEL WALL
Vorstandsvorsitzender der Wall AG

ROSWITHA WENZL
Children's Representative of Stuttgart
04.50 pm
Topical discourse – financial crisis
"Financial crisis – what happens now, and how can the cities respond?"
FREITAG 11. SEPTEMBER 2009
CULTURAL DIVERSITY IN THE CITY

Venue: WDR television studios, Cologne-Bocklemünd
09.30 am
Topic moderation
09.40 am
KICK-OFF SPEECH: "Cultural Identity – Challenge for the Cities"

PROF. DR. NORBERT LAMMERT MDB
President of the German Bundestag
10.10 am
"Turning Diversity into an Opportunity"

ALAN RUDGE
Councillor, Cabinet Member for Equalities and Human Resources, City of Birmingham, England
10.30 am
"Guest Workers, Expatriates, International High Potentials: What Can Cities Learn from Multicultural Companies?"Städte von multikulturellen Unternehmen lernen?"

DR. UWE FRANKE
CEO of Deutsche BP and initiator of the "Charter of Diversity of German Companies
10.50 am
Presentation by cultural associations
11.00 am
Coffee break and networking
11.30 am
"When Does Diversity Become a Risk? And How Can We Control this Risk?"

HEINZ BUSCHKOWSKY
District Mayor of Berlin-Neukölln
Panel discussion Cultural diversity in the city
"What Is Integration? – Fear of Loss of Identity versus Fear of 'Over-Foreignization'"

HATICE AKYÜN
journalist and publicist

WEIHBISCHOF DR. HEINER KOCH
Archbishopric of Cologne

BERND STREITBERGER
Alderman, City of Cologne

FERDOS FORUDASTAN
Author, publicist, freelance journalist and lecturer at various institutes including the Institute of Journalism at Dortmund University
12.50 pm
"What Would Dortmund Be Without Borussia? Old and New Sporting Cultures and Civic Identity"

DR. MICHAEL VESPER
Executive Director, German Olympic Sports Federation
01.10 pm
"Working-Class Culture, Culture of Remembrance, High Culture: What Moved the 2008 Capital of Culture – and What Remains?"

MIKE STOREY
Lord Mayor of Liverpool
01.30 pm
"Cultural Diversity in Germany – between Integration and Parallel Societies"

PETER ALTMAIER MDB
Parliamentary Secretary of State at the Federal Ministry of the Interior