Know-How-Transfer
Once a year, the Foundation organises a symposium focusing on topical issues relating to the cities. Future issues, approaches to solving current problems, and the result of the surveys conducted by the Foundation are discussed by representatives from the worlds of culture, politics, business and society. These fruitful discussions are made available to a wide specialist readership through the "Lebendige Stadt" journal.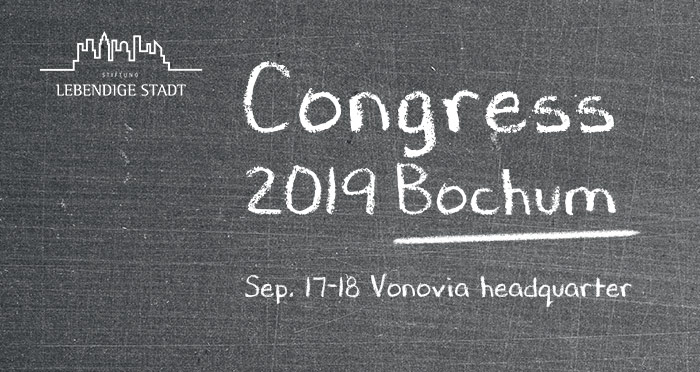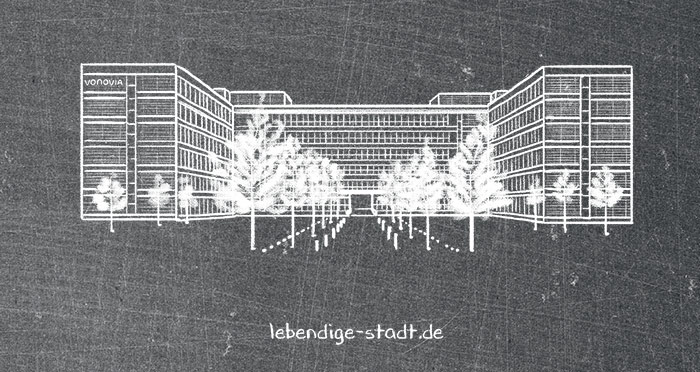 Run on the Cities
How can we sustainably create Living Space?
The Registration for the Conference 2019 is closed. If you are interested in participating, please send an e-mail with your name and your contact details as well as information on which program parts you want to take part (award ceremony on 17.09. or/ and conference on 18.09.) to events@lebendige-stadt.de.
17. September 2019
Foundation Award Ceremony: The Best Municipal Indoor Swimming Pool
Location: Vonovia Ruhrstadion, Bochum
07:30
Football is our life

KIRSTEN BRUHN
former competetive swimmer

ALFONS HÖRMANN
President German Olympic Sports Confederation

KASPAR KRAEMER
Dipl.-Ing. Architekt BDA, Kaspar Kraemer Architekten

LUTZ LIENENKÄMPER, MDL
Finance Minister, North Rhine Westphalia

DR. ANDREAS MATTNER
Chairman of the Board of the "Lebendige Stadt" Foundation
18. September 2019
Conference: "Run on the Cities – How can we sustainably create Living Space?"
Location: Vonovia Headquarters, Bochum (Germany)
10.00 a.m.
Words of Welcome

DR. ANDREAS MATTNER
Chairman of the Board of the "Lebendige Stadt" Foundation
10.10 a.m.
Welcome Address

10.20 a.m.
Keynote Speech

DR. JAN HEINISCH
Ministry of Regional Identity, Communities and Local Government, Building and Gender Equality of the Land of North Rhine-Westphalia
10.40 a.m.
Housing market under pressure

CAROLIN WANDZIK
Member of the Board GEWOS Institut für Stadt-, Regional- und Wohnforschung GmbH
11.00 a.m.
Communication and Coffee Break
11.30
The view of federal politics

SÖREN BARTOL, MDB
Deputy Chairman of the SPD Parliamentary Group for Construction, Housing, Urban Development and Municipalities, Digital Agenda, Transport and Digital Infrastructure as well as Economics
11.50 a.m.
Affordable Housing: The biggest Challenges

DR. JOACHIM WIELAND
CEO Aurelis Real Estate
12.10 p.m.
Modular Construction – Solution or High-rise Dilemma?

HANS-JÜRGEN BEST
Stadtdirektor Essen

MAX BÖGL
Member of the Supervisory Board Firmengruppe Max Bögl


BARBARA ETTINGER-BRINCKMANN
Managing Director Goldbeck GmbH
ANDREAS RIEGER
Managing Director Goldbeck West GmbH

PROF. DR. DITTMAR MACHULE
Former Prof. HafenCity University Hamburg
12.50 a.m.
Do we still want to grow?

PROF. DR. MARTIN FRANZ
Professor for Geography, University of Osnabrück

ULLRICH SIERAU
Lord Mayor City of Dortmund

ROBERT HEINEMANN
Member of the Board of "Lebendige Stadt"

KAI MAGNUS STING
Cabaret artist
14.20 p.m.
Announcement Regarding the 2020 Conference

ALEXANDER OTTO
Chairman of the Board of Trustees of the "Lebendige Stadt" Foundation
14.30 p.m.
Panel Discussion: Tenancy Law

DR. JAN-MARCO LUCZAK, MDB
Chairman CDU-Landesgruppe Berlin

DR. FRANZ-GEORG RIPS
Honorary President Deutscher Mieterbund e.V.

LARS WITTAN
COO Deutsche Wohnen SE

KLAUS-PETER HESSE
Managing Director ZIA Germany
15.00 p.m.
What can we learn from ...
15.10 p.m.
... wooden High-rises in Stockholm?

ARNE OLSSON
CEO Folkhem Produktion AB
15.25 p.m.
... capacity-optimized brick Houses in Frankfurt?

FRANK JUNKER
CEO ABG Frankfurt Holding
15.40 p.m.
Plain speaking: The "Lord Mayors" Session

THOMAS EISKIRCH
Lord Mayor of Bochum

MARKUS LEWE
Lord Mayor City of Münster

ELKE CHRISTINA ROEDER
Lady Mayor of Norderstedt

DR. EVA LOHSE
Former Lady Mayor of Ludwigshafen
16.10 p.m.
End of the Conference