Projects
Following an evaluation of its activities to date, the Foundation is committed to bringing a sharper focus to its support and promotion activities in public urban spaces. These activities can be assigned to the individual core themes of the Foundation – light, green or developed space - or simultaneously to more than one of these themes.
Castle in Focus
Information on the project 'Chamber of Commerce Entrepreneurs' Initiative
A new illumination concept is being developed for Schwerin Castle, the landmark of the state capital of Mecklenburg-West Pomerania. The "Lebendige Stadt" Foundation is funding this future-oriented illumination scheme to the tune of 20,000 euros. This was announced by representatives of the "Castle in Focus" entrepreneurs' initiative at the Schwerin Chamber of Trade and Industry and the "Lebendige Stadt" Foundation at a press conference in Schwerin on Wednesday. The aim of the new illumination concept is to create a modern and energy-efficient lighting scheme that shows Schwerin Castle in its best light. The illumination system for the castle and the lighting scheme for the neighboring parts of the city will be coordinated to create a harmonious overall impression.
For this purpose, "Lebendige Stadt" Foundation commissioned the "d-plan" company (Deutsche Planungs- und Beratungsgesellschaft für Stadtentwicklung mbH) to conduct an in-depth analysis of the illumination effect of Schwerin Castle on the surrounding area. Following this analysis, d-plan recommended that the urban environment, the footpath illumination scheme, the surrounding green spaces and tress and the lines of sight across the water be incorporated in the overall concept to optimize the illumination effect of the castle.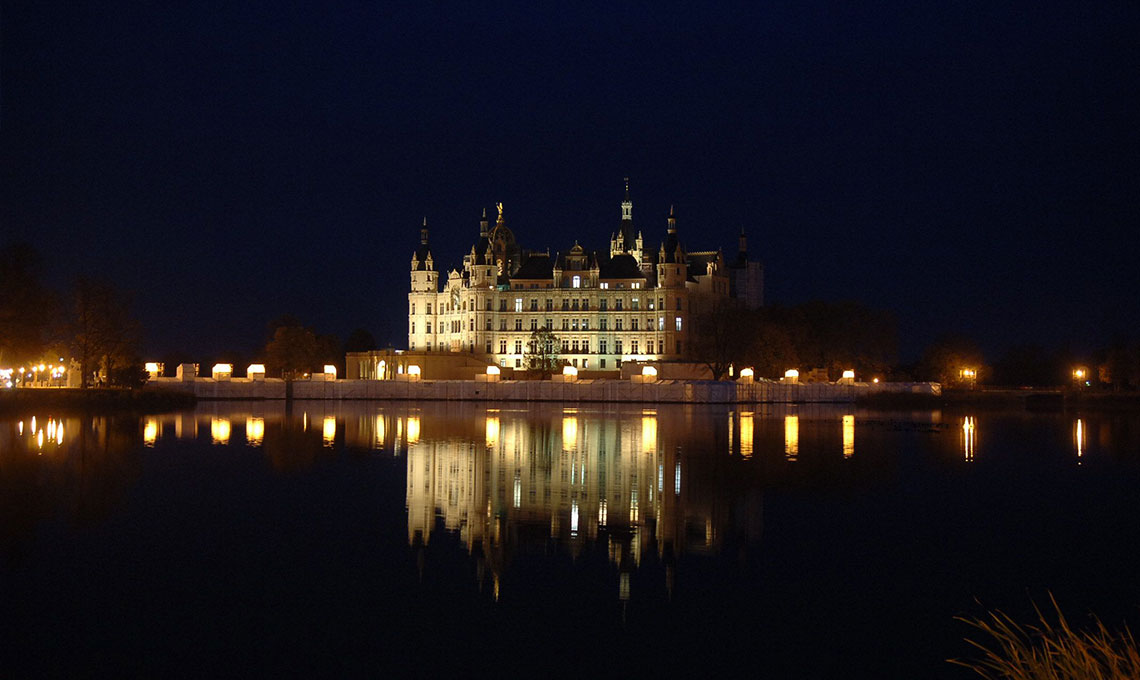 The "Lebendige Stadt" Foundation attaches major importance to the sustainability of the Schwerin illumination concept. Executive Committee member Gerhard Fuchs, former Hamburg Director of Urban Development and Environmental Affairs, stressed that "the 'Lebendige Stadt' Foundation supports projects like the illumination of Schwerin Castle because they can also serve as models for other municipalities. Our primary goal is to strengthen the resources of the city – to promote climate protection, the creation of green spaces and to improve the quality of life. The new illumination concept for the castle and the National Horticultural Show in the coming year will certainly also help us to raise the European profile of Schwerin as a pleasant, green state capital on the water – also with a view to the application for the recognition of Schwerin Castle as a World Cultural Heritage Site."